Talalgia is pain in the heel area. This pain can make walking and weight-bearing uncomfortable. Talalgia therefore represents a number of annoying everyday conditions. In this article, we'll delve into the causes, symptoms and treatments of talalgia, to help you better understand and manage this condition.
Talalgia can occur in different areas of the heel:
- at the back of the heel,
- under the heel,
- around the heel.
En général, il s'agit de douleurs liée à une blessure ou une inflammation.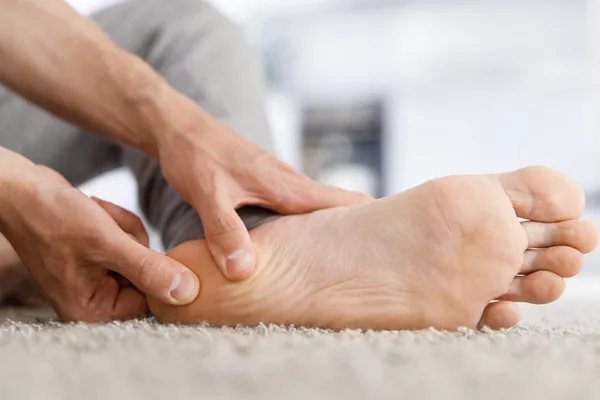 Several factors can contribute to talalgia:

Achilles tendonitis is also often the cause of talalgia. Like all inflammations, Achilles tendonitis can cause sharp pain first thing in the morning, when the muscles are cold. Certain characteristics seem to predispose to such lesions: a flat or hollow foot, a knee that deviates inwards or outwards, and unevenness in the lower limbs.
Une talalgie peut aussi être le symptôme d'une fracture du calcanéus. Parfois, on parle de fracture de fatigue lorsqu'elle est en lien avec une activité physique prolongée, intense et inhabituelle. Dans ce cas, la douleurs est extrêmement forte dès que la personne pose son pied par terre. Cette fracture de fatigue apparaît très souvent chez les coureurs lors d'une succession de sortie running.
Symptoms of talalgia may include:
Heel pain: Pain felt mainly in the heel or under the foot.
Morning pain: Pain may be more intense after rest, as in the morning.
Difficulty walking: La marche peut devenir difficile, surtout après de longues périodes d'inactivité.

Pain usually occurs during movement, especially when walking or playing sports. However, it can also occur at rest.
Rest and Ice: Le repos et l'application de glace peuvent réduire l'inflammation.
Stretching: Gentle stretching of the plantar fascia can relieve tension.
Orthopedic insoles : Les semelles New Equilibre peuvent offrir un soutien et un amorti spécifique.
Appropriate shoes: Choose shoes with good heel support; avoid pumps.
Talalgia can disrupt your daily routine, but by understanding its causes, symptoms and treatments, you can take steps to alleviate pain and regain comfortable mobility. If you experience symptoms of persistent talalgia, consult a healthcare professional for an accurate diagnosis and tailored recommendations. By following medical advice, adopting preventive measures and exploring treatment options, you can minimize heel pain and maintain a gait free of discomfort.
How do orthopedic insoles help with talalgia?
Les semelles orthopédiques permettent de prévenir et de soulager un talalgie efficacement, sur le long terme. Conçues pour s'adapter aux besoins spécifiques de chaque morphologie, les New Equilibre Insoles offrent un soutien ciblé qui peut aider à réduire la pression sur le talon et à atténuer l'inconfort.
En fournissant un amorti supplémentaire et un soutien adéquat au fascia plantaire et aux structures du pied, les semelles orthopédiques contribuent à minimiser la tension et l'inflammation qui provoquent la talalgie. Elles aident également à maintenir une posture et une démarche optimales, réduisant ainsi la pression sur le talon pendant la marche.

Discover all New Equilibre insoles on our online store:
(Livraison gratuite vers la France Métropolitaine, en 2 jours)